Mustard Seed Tiny House Shells on sale for spring 2019!
Spring is the season to plant seeds of freedom!  Mustard Seed Tiny Homes is celebrating the new season with a bold sale on our tiny house shells. For years we have helped our clients live a freer lifestyle through owning a tiny house. 
Now, we have a solution for the DIYer that not only saves time and money, but eases the burden of building. Let us do the heavy lifting with a custom tiny house shell to get your project started! 
Price Discount: Mention the discount code SpringSeed when you request your shell quote and get another $500 of your purchase price!  This sale runs through May 31st. To receive a tiny house shell quote visit our easy 2-step quote request form page here.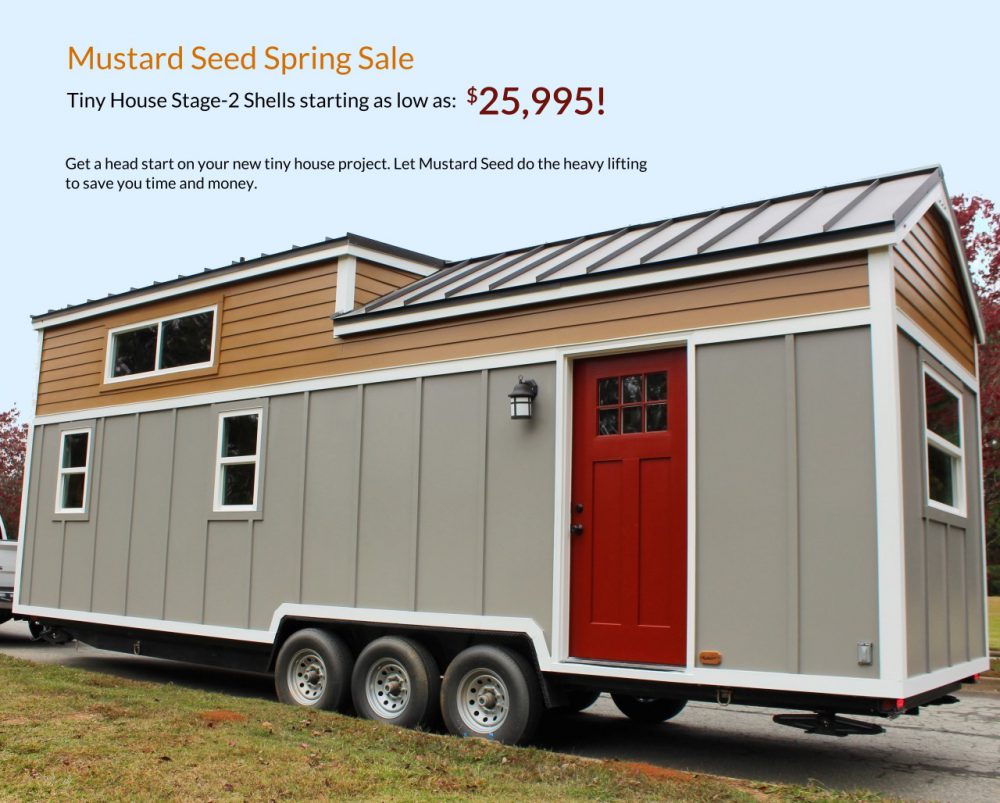 WE ARE OFFERING TINY HOUSE SHELLS BUILT IN TWO Primary STAGES.
Stage-1 & Stage-2
EACH STAGE OFFERS A different LEVEL OF COMPLETION.
Stage 2 Shells:
The savings of finishing your tiny house interior yourself can be big!  Homeowners can save over 60% finishing your home yourself! With our Stage-2 Shell we provide you with a tiny house completed on the outside. That means you're able to focus your time and expenses inside, with the comfort of knowing you are not only dried in, but ready to build out the interior safe from the weather. We have 20′ Stage-2 Shells starting at $24,995. Homeowners can save over $25,000 doing it themselves!
Stage 1 Shells:
We have 20′ Stage-1 Shells starting at $15,995.  With our Stage-1 shell we build out the framing and sheathing on your tiny house trailer.  This gives you a great head start on your tiny house. You will still need to apply your exterior veneers, roofing, door and windows.  This is our most economical way to start the build of your tiny house. 
Options & Features
Not only do we offer Tiny House Shells in two primary stages, but we offer variations of each by providing add-on options to add to the stage shell you need. Want to add plumbing or electrical rough-in? We can do it. Want to add a roof to a stage-1 shell? We can do it. 
See the list below for some of our add-on options to help your DIY project get a little further down the road.

Click the button below to request your custom quote for a tiny house shell.