Tiny Home Community ?
Mustard Seed has been busy! Our new modular tiny homes are perfect for communities, large or tiny. Our generational homes are a great solution for residential pocket neighborhoods or larger communities. And they are a smart idea for residential investment, or rentals. Either way, our small modular homes solve the zoning problems we've seen with Tiny Houses on Wheels (THOWs). Contact us to earn more about how we can work with you to make this a reality.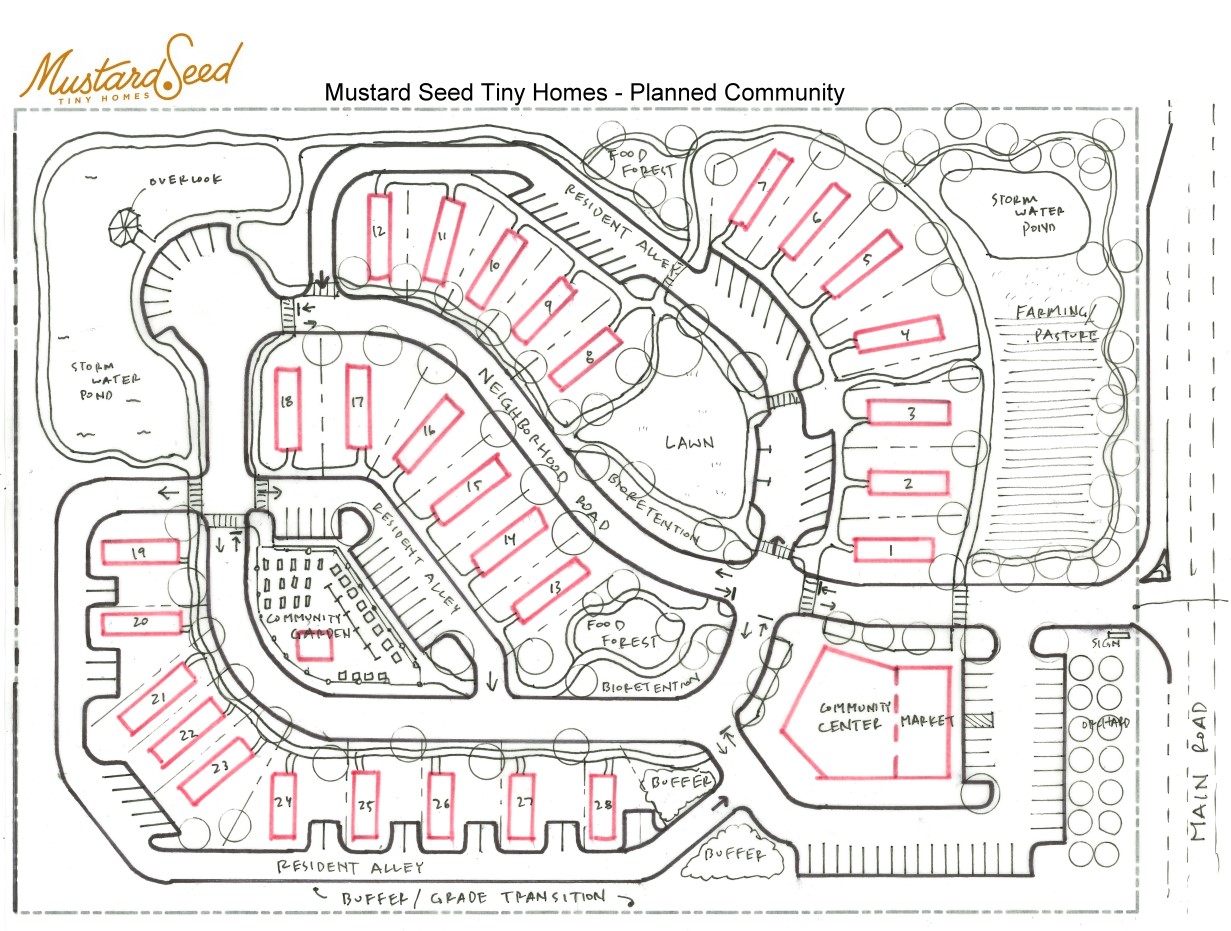 Community Concepts
These days there are many ideas for a tiny house community. Mustard Seed has a big idea! We envision common areas for relaxing and play, edible landscape, and room to plant, live, play and work. A place where the visitors can be comfortable in a quiet, cozy, memorable location. Or, a place where residents can grow, live and play for many years. And we have the experience and vision to make it a reality.
We have had millions of views on our website, tens of thousands of followers Facebook and Instagram. And after talking, chatting and emailing with thousands and thousands of prospective homeowners we have become very well informed regarding what tiny home owners need and want.
As a result of our experience, and belief in the lifestyle, Mustard Seed is seeking partners to create tiny home communities. Both for rental, and for residential. If this sounds like something you would like to sew into with like minded, proven partners, please contact us. But don't wait too long. There are many families who really need this!
Design – Modular Tiny Homes
Mustard Seed has a brand new offering for the tiny house community and lifestyle. It's our modular tiny homes. And they are a hit! Check out the
The Dogwood – 2 BR/2 Bath home
The Harvest – 1 BR/1 Bath
The Sycamore – 2 BR/1-1/2 bath
These homes are perfect for a residence or rental. And these are our newest and most popular designs! These tiny homes solved the zoning problem we faced with Park Models and THOWs. Come tour one at our shop and find out why this is the answer to tiny living.
Modular Installation Options
There are many designs, styles and colors to bring beautiful diversity to a community of homes. And Mustard Seed tiny homes are built to be lifetime homes. True value, built with high quality materials and craftsmanship that shows! Whether we a few or a few dozen homes in a community, Mustard Seed has a tiny home solution!